DORBLU Royal Blu
Recipes Collection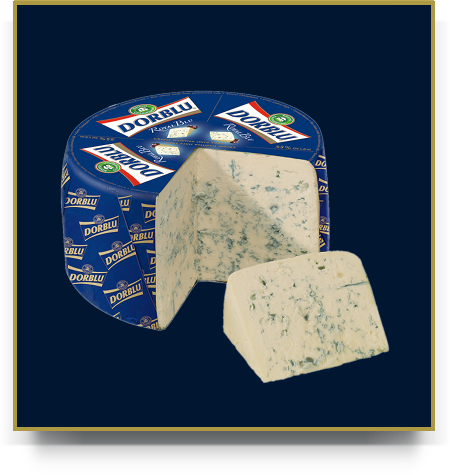 DORBLU Royal Blu Collection
The top masters have honed their skills over many years to create products that truly reflect their depth.
The full creamy taste of DORBLU Royal Blu charms with its rich notes and piquancy. It is mildly savoury and piquant. It melts in the mouth and fills you with inspiration. Like all great works that mature over time, DORBLU Royal Blu acquires individuality and charisma that make it even more interesting.
The fine taste of this blue cheese will not leave anyone indifferent.
Serving suggestion:
The rich, creamy taste of DORBLU Royal Blu will expand the palette of your cheese platter and add piquancy to different sauces and soups.
Available as:
2.5 kg wheel, 3 kg block, 100 g portions
Fat content:
55% FIDM