Company values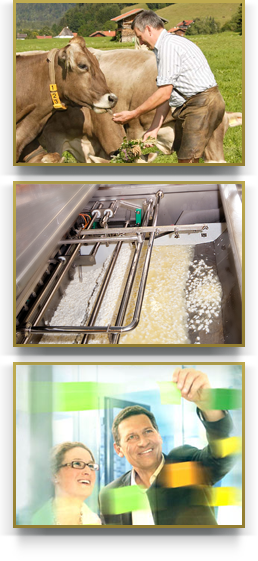 Kaserei Champignon's main asset is its people. This is 1,000 employees who give their skill and love every day creating real masterpieces of cheesemaking. This is 1,300 local farmers, many of who have been supplying us with fresh milk for several generations and, thanks to this reliable partnership and mutual trust, the taste of our cheese is always unblemished and unchanged.
We are proud that we are one of the most modern dairies in Europe which is true to the traditions of cheesemaking.
We value quality and do not use any preservatives, stabilisers, artificial colours or gluten in the production of our masterpieces - cheese with a fine taste which has absorbed all the valuable and useful properties of milk.

Kaserei Champignon has been awarded the highest recognition from the British Retail Consortium and the status "Higher Level" in accordance with the international food standard DIN ISO 9001/2008.
Take your taste buds on a voyage of discovery – Käserei Champignon wishes you many unforgettable, indulgent moments!